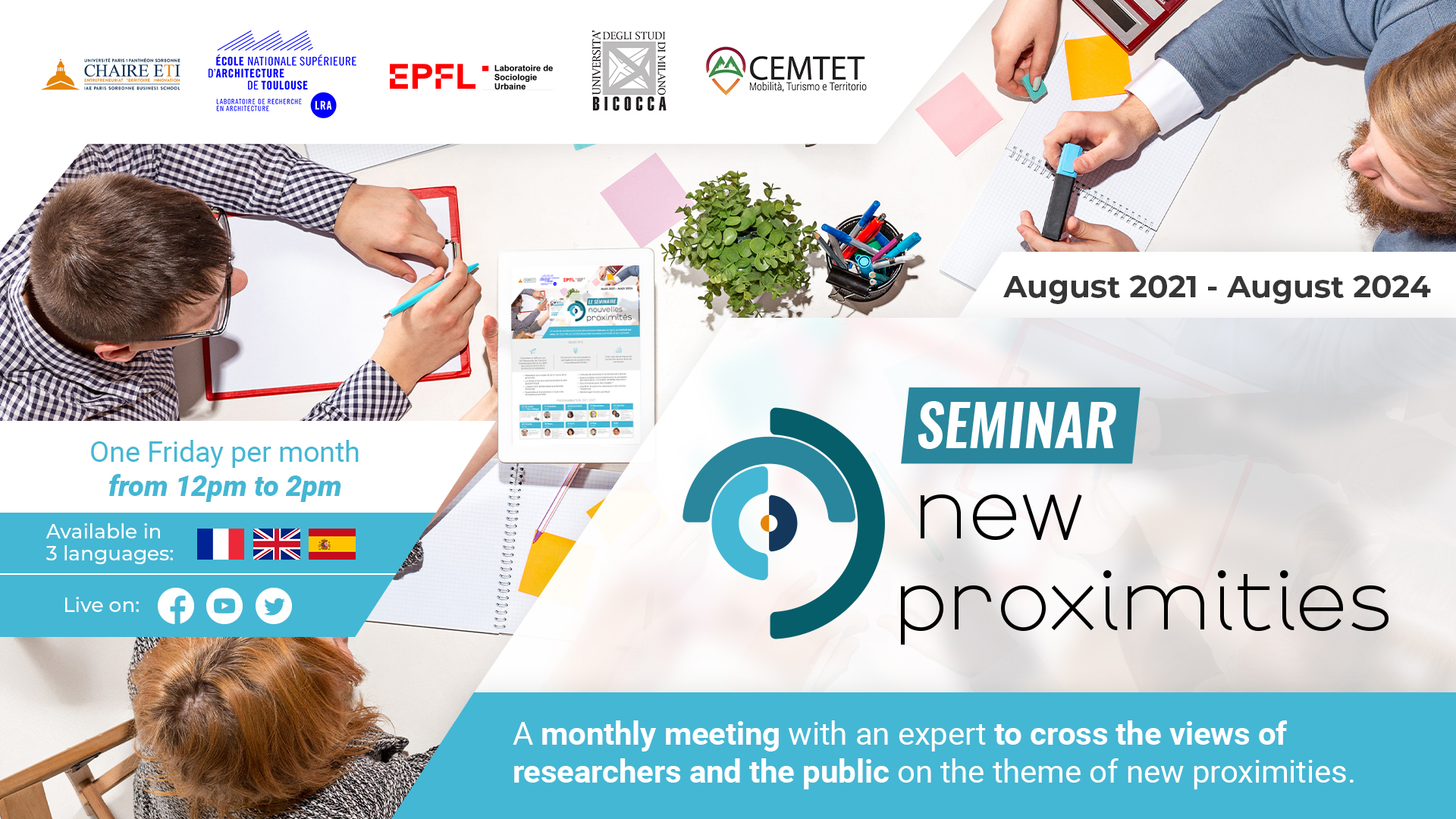 JOIN US FOR A MONTHLY MEETING WITH AN EXPERT TO COMBINE THE VIEWS OF RESEARCHERS AND THE PUBLIC ON THE THEME OF NEW proximities.
OCTOBER 1, 2021 - WHAT IS TO BE CLOSE? - MICHEL GROSSETTI
"What is it to be close? The notion of proximity in a reflection on social entities, relationships and processes "
Michel Grossetti is a sociologist, director of research at Cnrs and director of studies at Ehess. He works on networks of relationships between people or between groups and on innovation activities with a questioning of their inclusion in geographic space.
In the social sciences, the notion of proximity has since long, not only been reduced to geographic distance (in its various forms). Sociologists very early on developed the notion of "social space" as a system of relationships and social relations. Economists have also sought to theorize the articulation between proximity in geographical space and other forms of proximity, in social, economic relations, etc. Defining a principle of proximity implies specifying the entities it concerns and therefore, in fact, defining an ontology. This presentation will be based on a reflection on the categories used to describe social activities (https://hal.archives-ouvertes.fr/hal-02523130v4 for an introduction and https://halshs.archives-ouvertes.fr/hal -02510894 / for a chapter devoted to space) to propose a possible approach to proximities.
NOVEMBER 26 - DEVELOPING DIFFERENT PROXIMITIES OVER TIME - CLAIRE PELGRIMS
Claire Pelgrims is a Doctor in the Art of Building and Urban Planning, post-doctoral fellow (PDR FNRS Gender and aesthetics of cycling) in the Sasha Laboratory, Université Libre de Bruxelles
DECEMBER 3, 2021 - NEARBY AND EMERGING PLACES - PATRICK BOUCHAIN
Patrick Bouchain is an architect, urban planner, project manager, scenographer, founder of the Construire agency.
JANUARY 14, 2022 - NEARBY AND ARCHITECTURE - PIA FONTANA - MICHEL MAYORGA
Pia Fontana is a Doctor of Architecture from the Barcelona Higher Technical School.
Michel Mayorga is a Doctor of Architecture and Master of Urban Planning from the Polytechnic University of Catalunya, architect from the National University of Colombia.
FEBRUARY 25, 2022 - DIGITAL PROXIMITIES - BORIS BEAUDE
Boris Beaude Geographer, researcher at the Federal Polytechnic School of Lausanne (EPFL)
MARCH 18, 2022 - NEAR NATURE AND CITY - CHRIS YOUNES
Psychosociologist, doctor and HDR (authorized to supervise research) in philosophy, Chris Younès is a professor at ESA (Special School of Architecture, Paris), founder and member of the Gerphau laboratory (EA 7486, ENSA Paris-la-Villette) , and the PhilAU Thematic Scientific Network (Ministry of Culture, ENSA Clermont-Ferrand). Co-founder and member of ARENA (Architectural Research European Network), and member of the Scientific Council of EUROPAN.
His work and research develop the question of places to inhabit at the crossroads of nature and artefacts, ethics, aesthetics and politics. She has edited more than twenty collective publications, and authored numerous articles and books, including: Architectures of existence. Ethics. Aesthetic. Politics, Hermann, 2018.
Taking the vulnerability and interdependence of living things seriously revives the potential for new proximities in the redevelopment of inhabited environments. Relationships are a keystone. In particular, we will consider three interactive layers in the processes at play: reliance as a synergistic intensity against a dualistic thought; the connection between near and far, between physical and mental mobility; the reactivation of open spaces in which the encounters and passages to be made are of an ethical, aesthetic and political nature.
APRIL 8, 2022 - IS PROXIMITY ACCESSIBLE TO EVERYONE - CAROLINE GALLEZ
Caroline Gallez is Research Director at IFSTTAR within the City Mobility Transport Laboratory
MAY 6, 2022 - ART-URBANISM NEARBY - MAUD LE FLOCH
Maud Le Floch Urban planner-scriptwriter, Founder of the urban arts pOlau-pole.
JUNE 10, 2022 - PANDEMIC PROXIMITIES - ANDRÉ TORRE
André Torre is an Architect graduated from Politecnico in Milan and doctor in architecture from IUAV University in Venice.
September 2022 - ANGELO TURCO
October 2022 - Jana Revedin
Jana Revedin is an Architect graduated from the Politecnico in Milan and a doctorate in architecture from the IUAV University in Venice.